Find two green fun filled days of garden goodness at the Wondai Garden Expo this April. It doesn't feel like it was eighteen years ago that I first enjoyed this wonderful event after moving to the beautiful South Burnett from a small coastal village in NSW. With a few relocated potted plants, my garden here at Ramesa Farm near Crawford began to develop section by section while I sourced local plants, good mulch and a variety of manures.
It wasn't long before I learned that the "Wondai Garden Expo" was held each Autumn and Spring. Over the following years I would think about what I loved, what grew well and what my budget would allow. Often with the company of family I'd thoroughly enjoy my day browsing the plant stalls, talking to the vendors and enjoying the wonderful talks and displays. If you would like to do the same in six weeks time, the Wondai Autumn Garden Expo will be held on Saturday the 17th of April from 8am to 4.30pm and again on Sunday the 18th of April from 8am to 1pm.
The committee President, Helen Young explains that "Our Garden Expos have a strong core focus on attracting top quality specialist nurseries, where the plants are, in the main, grown by the people who sell them and who are able to give specialist advice to the keen gardener."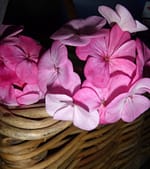 For many years our Ramesa Nursery have been attending and supporting this event and my husband Peter and I really enjoy talking to the gardeners both new and experienced. It's wonderful to know there are local people showcasing a gardening event in our beautiful rural area. Somewhere we can indulge in two days of garden delights and be tempted by the wide range of plants and all things gardening including fertilisers, potting mixes, coco-pith blocks, pots and creative gifts.
Knowing that the Wondai Garden Expo Inc is managed by an independent incorporated Committee which comprised of members of Wondai District Garden Club Inc and other interested community representatives I'm sure new members would be most welcome.
So with only six weeks away I will be looking forward to the Expo – Save the date and enjoy the wonders of the Wondai Garden Expo on Saturday the 17th of April from 8am to 4.30pm and again on Sunday the 18th of April from 8am to 1pm. See you at the Expo! and "Happy Gardening" from Romaine