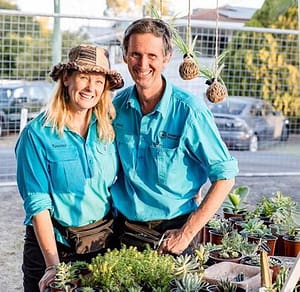 RAMESA Nursery
163 Findowie Rd, Kingaroy, QLD, 4610
07 4162 5196 - 0401 289 922
nursery@ramesa.com.au
Visitors by appointment only
Hello from Peter and Romaine Undery.
RAMESA Nursery is located on our beautiful property surrounded by bush near Kingaroy. (South Burnett region of Queensland, Australia). Establishing in 2014 at the end of a long drought we proudly grow herbs, flowers, hedging plants, feature shrubs, trees and succulents. As a specialty selection we provide a wide range of herbs for healing and many people have purchased our plants at regular Markets, Garden Festivals, online and at Garden Club meetings.
Our aim is to share our garden and make our world a greener and healthier place by growing our plants and being conscious of the environment we live in. Peter propagates trees and cares for the animals on our property and designs and builds the infrastructure of the Nursery and Farm. Romaine is a visual artist and creates Handcrafted pots from the red soil on our property and paints whenever possible. Romaine travels and teaches 2 hour small group workshops (10 - 20 people @$40 each)  "Basket-weaving, air-dried Pot-making and Kokedama". Enquiries are welcome.
The RAMESA Nursery stall is a welcoming space providing affordable and quality plants. Hope to see you there ... Happy Gardening!