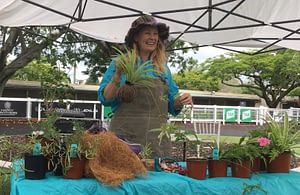 Introduction
Immerse yourself in a Ramesa Nursery workshop. Located in gallery spaces, shop venues, florist shops and private gardens; relax and unwind while learning a new skill.
My Basket weaving, Kokedama and Botanical collages are for any level of experience. See below a list of upcoming workshops with date and time details. Some tickets are purchased from the venue and some available online.
As an option, you may have your own group and want to host a workshop in your own venue. I am open to suggestions and flexible with numbers, venues, dates and times and so happy to assist you whenever possible.
My creative workshops are inspired by nature and are opportunities for you to enjoy a relaxed experience. Kind regards, Romaine Undery.
Next Workshops
Bonsai Workshop – Sunday 24th October, 10am – 12 Midday at Graham House, Murgon. This workshop includes 2 hours of tuition and learning the History of Bonsai, the choice of an oval, rectangular or other shaped Bonsai pot, suitable Plants, copper wire for fixing and shaping, Bonsai Mixes and gravels and mosses for topping plus a "How to care for your Bonsai" leaflet. Cost is $50.00 per person. Contact Graham House for Tickets on (07) 4169 8400
Basket Weaving- View Basket Gallery

Join in the fun as we unleash our Creativity with Cat's Claw Creeper! This two-hour workshop aims to teach the basics of Basket-weaving using cat's claw creeper collected from the banks of the Stuart River, near Kingaroy. We will use these to create beautiful forms. Whether a "Rustic" look or a more symmetrical "Neat" look is preferred, each individual "Woven-basket" art piece will be unique. All materials are supplied and no weaving experience is necessary.
$40 per person. Catering for groups of 10 to 20 people in suitable locations. Contact – Romaine Undery from RAMESA Nursery events@ramesa.com.au or 41625196 or leave a message through our fb page. https://www.facebook.com/ramesafarm
Kokedama – View Kokedama Gallery

Enjoy hands on instructions of how to make your own fun and colourfully beaded Kokedama string ball plant. Over 2 hours you will be taken step by step in creating your own living artwork. Feel inspired in a creative and supportive environment and have some fun. Kokedama are perfect to brighten up your living area; All materials are supplied and no Kokedama making experience is necessary.
$40 per person. Catering for groups of 10 to 20 people in suitable locations. Contact – Romaine Undery from RAMESA Nursery events@ramesa.com.au or 41625196 or leave a message through our fb page. https://www.facebook.com/ramesafarm