Many years ago I had thoughts about writing a book; including stories of people and their home gardens. Sometimes I think back to this time when I was creating my own garden and watching precious rain sprinkling life. I also collected stories for the collation of this Gardening Book and one of my favourites is from my Great Aunt Mary who lived in Cowra N.S.W. I would like to share her story; I hope you enjoy reading "Gardening in the 1920's"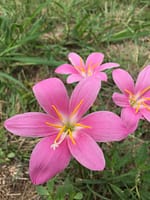 "1920's Gardens…It is many years since we lived on the River Murray near Echuca and enjoyed the lovely garden and the good times we had at "Merool". In the 1920's when my sister Helen and I were young (Helen is Romaine's Grandmother) we lived right on the river and Mother had a lovely garden. There was a long drive in through the wrought iron gates along the gravelled driveway, on one side of the drive was the river and on the other side a long row of standard roses, down the drive and approaching the house and garden was a big wooden archway covered with American Pillar roses and Morning Glory. The drive went on past the verandah and front door and round to the garage.
Mother's garden was very big with about two hundred roses and along the far side were peach and apricot trees and several almond trees, there were always heaps of flowers, my favourites were the hollyhocks, aquilegias (Grannys bonnets) larkspurs of all colours, we used to make small garlands from the centres and press them in our books and the pink picotees grown all along the verandah were marvellous they smelled so sweet, we used to pick big bunches to take to school.
Mother was a keen gardener and she always liked Helen and I to look after our own gardens. We both had our gardens at the side of the house; I always envied Helen's garden and felt she had the best but I guess that's the way younger sisters always feel! Helen had a beautiful closed in area with a big peach tree at the entrance and a mulberry tree on the far fence. There was a path down the middle and lots of belladonnas, daffodils and jonquils on either side. There were also nasturtiums and geraniums. I must admit Helen deserved this garden as she always put in a lot of work, the garden was just outside her bedroom which made it really nice.
To get to my garden now, it was rather more concentrated and just a big square with a high trellis all round and a small flower bed and in the centre was a big cleared area where I had a putting green. I can't remember too many flowers except for the climbing roses that just grew on the trellis and maybe a few nasturtiums that came up. I think I was keener on the putting in those days than working in the garden! Iv'e always liked making beds for veges and loved sowing seeds and usually forgetting to water them, the radishes were good as they came up so quickly. There was a big orchard near the chook yards where mostly citrus was grown. Ever since those days Helen and I have been really keen on our gardens, it's such a great interest. The garden I have now is big and rambling and I really enjoy it every day." Mary Corney (my Great Aunt) Cowra N.S.W, Australia.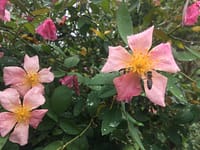 For more gardening inspiration – see you at the Wondai Garden Expo Saturday 17th April 8am – 4.30pm and Sunday 18th April 8am – 1pm.
Happy Gardening from Romaine at Ramesa Nursery, Kingaroy.
Image I – Single Roses at Ramesa Farm sprinkled with rain
Image 2 – Beautiful Rain Crocus at Ramesa Farm