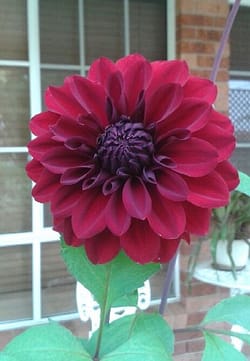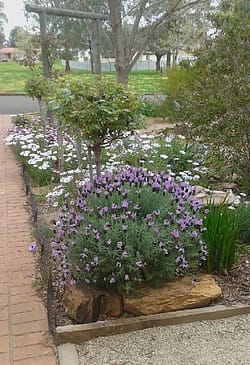 Sharing experiences with significant people in our lives shape who we are and develop our lifelong interests. My Mother who is an enthusiastic and talented gardener from Cowra N.S.W shares her passion for gardening with me regularly. It's a real joy to find out what's happening in her garden and although she lives in another state we are still able to share photos and meaningful conversations. Designed and constructed by Adam are timber archways, path-edging and a recently made compost heap edged with fibreglass sheeting. With such a variety of plants and structures within her present garden and those of past times the opportunities for observation seem endless.
At the moment her Spring bulbs are flowering and beautifully fragrant Lavender is in full bloom along the pathway attracting the bees. Lavender being her favourite flower evokes memories of her own Mother's garden. Vegetables too, have always been included as an important part of Mum's garden providing a bounty of healthy, fresh produce for the dinner table; perhaps part of the reason why her meals always taste so good. Broad beans, cauliflower and broccoli are planted now along the side of her house characteristic of what she is able to fit into her beautiful garden.
Many people look back on the formation of their childhood interests. My earliest memories are spending enjoyable hours outside playing with sticks, leaves, rocks, sand and flowers while watching in fascination the insects mingled throughout the garden, including the occasional red-back spider hidden among the rocks near the clothes line. I remember being intrigued by a praying mantis with its triangular shaped head tilting as it waited patiently for its food to wander past. I'm grateful that Mum would talk about the plants, their names and which were cuttings gifted from friends or relatives. I think that this concept of sharing plants and knowledge has been a stronghold for me influenced by Mum and is worth its weight in gold.
As you can see, my Mother is and always will be a real inspiration in my gardening journey. I wonder who has inspired you? Are you from a long line of passionate gardeners or the first generation of green thumbs? There are so many people with an appreciation of nature, growing plants, sharing their knowledge and who are making our world a better, greener and more beautiful place. Let it be our aim to inspire and be inspired. "Happy Gardening" Romaine
All images by Jane Kiernicki
Romaine Undery with her Mother Jane Kiernicki enjoy sharing their love of gardening

Ranunculus creating masses of colour in Jane's garden
This Dahlia tuber took about 8 weeks from planting to flowering
Wonderful front garden walk with gravel paths
Jane's favourite flower; fragrant and bee attracting
Plantings of Broad beans, cauliflower and broccoli along the side of the house.