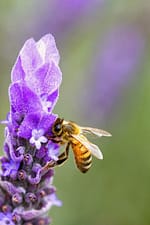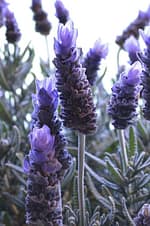 The image of a fragrant garden; full of buzzing bees and a beautiful abundance of purple flowers is captured firmly in my mind. The memory of my Grandmother's garden is so vivid. It's a place where Lavender was featured, picked and often given as a posy. It's no wonder that French Lavender (Lavendula Dentata) is my favourite flower.
French Lavender can be easily identified by its beautiful grey green foliage with the serrated edge. The dented leaves (Dentata) being the real clue to the plants identification and growing to one metre tall and wide.
I find that when planted in a sunny location and pruned each year, lavender plants should live around seven years. Although lavender is fairly drought tolerant, adequate moisture is required throughout the growing season. Just remember that they are best grown in a sunny position in well drained soil and slightly on the alkaline side of the PH scale. Also after planting it's important that the soil around the rootball does not dry out; ensuring a good head start and healthy growth.
French lavender has a strong calming fragrance making it a popular choice for a cottage style garden. With good sunlight and low to medium fertility in your soil the best fragrance will be produced. The less sun a lavender receives, the less flowers and oils will be produced which ultimately limits the lavenders smell.
Pruning lavender keeps it looking full, encourages new growth and flowering, and provides you with fresh flowers for picking as my Grandmother did.
Knowing that bees love the pollen within lavender flowers, growing this plant is great for our whole garden in general; especially if you are growing fruits, vegetables and herbs.
Lavender may bloom in its first year, but it takes three years for plants to mature. You will then have plenty of flowers to harvest for various uses; like today when I wandered through the Kingaroy Regional Art Gallery and noticed some beautiful sachets filled with lavender to place amongst your clothes. Harvesting flower spikes of mature plants as soon as they flower by cutting just above the leaves will give you a really nice bunch for popping into a vase. Or like me you can simply enjoy brushing past your plants to release the fragrance.
Romaine