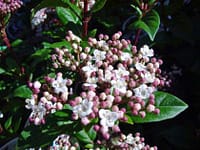 Viburnum tinus (Laurustinus) shrubs are definitely my favourite plant for hedging use. My first garden had a beautiful winter flowering hedge of these plants which the bees and butterflies really loved. You could hear them buzzing while walking past attending to the garden. The north facing garden was often highlighted with the morning sun and included twenty one Viburnum tinus plants, a wonderful Mother's Day gift from my family in 1994. They joined to form a strong, clipped one metre tall front hedge although left to nature they would eventually reach as much as three metres in height.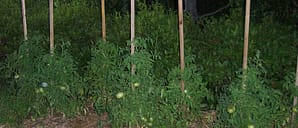 As a tough shrub the many ideal features really do seem endless. It has a dense growth habit with glossy dark green leaves which develop purplish tones in the colder seasons. One of the major highlights of this variety is its clusters of spectacular pinkish white flower heads. These are lightly fragrant and can spot flower throughout the year with the peak flowering time being winter and spring. An evergreen shrub, it has its origins in the Mediterranean and performs well in many home gardens. This variety is a relatively fast grower making it an excellent choice for quickly establishing an informal hedge for sooner appreciation.
The Viburnum plants in our garden (going back seventeen years ago) were a great backdrop to the tomatoes in the foreground which were enjoyed by our own and neighbouring children. As the flowers began to bloom they began as pink buds opening their petals with attractive white centres. On our farm just north of Kingaroy at Gordonbrook we strive to grow plants which have at least some tolerance to hot, cold and dry conditions. Yes, quite an ask of any plant.
The fast growth and wind tolerance of this shrub are qualities that I really appreciate in my own garden. Even a single plant deserves consideration and being frost hardy, winter flowering and evergreen the shrub can be adapted to creative garden designs. I also love the fact that it flowers in winter when there are usually a limited number of flowers within our sight.
The general height of three metres x three metres makes this a great screening plant or as a wind break. Viburnum tinus can be used as a beautiful robust feature plant, for hedging, grown in pots or tubs or simply as an addition to the plantings in your shrubbery.
For sourcing your plants they are generally found at local nurseries, markets and garden centres. A computer search can be useful for locating purposes and you'll find that plants are sold in various sized pots and priced according to their establishment. It just depends on your own preferences and needs. Viburnum tinus are best grown in either full sun or part shade positions and can be pruned easily making these shrubs a firm favourite for performance and as part of a gardeners wish list. "Happy Gardening" everyone. Romaine
Image 1 – As the flowers begin to bloom they start as pink buds and open with attractive white centres.

Image 2 – I clipped my hedge a couple of times a year to the height of my spade.

Image 3 – A

beautiful winter flowering hedge which the bees and butterflies really loved.