Buderim Garden Festival
October 21 @ 4:00 pm

-

October 23 @ 2:00 pm

AEST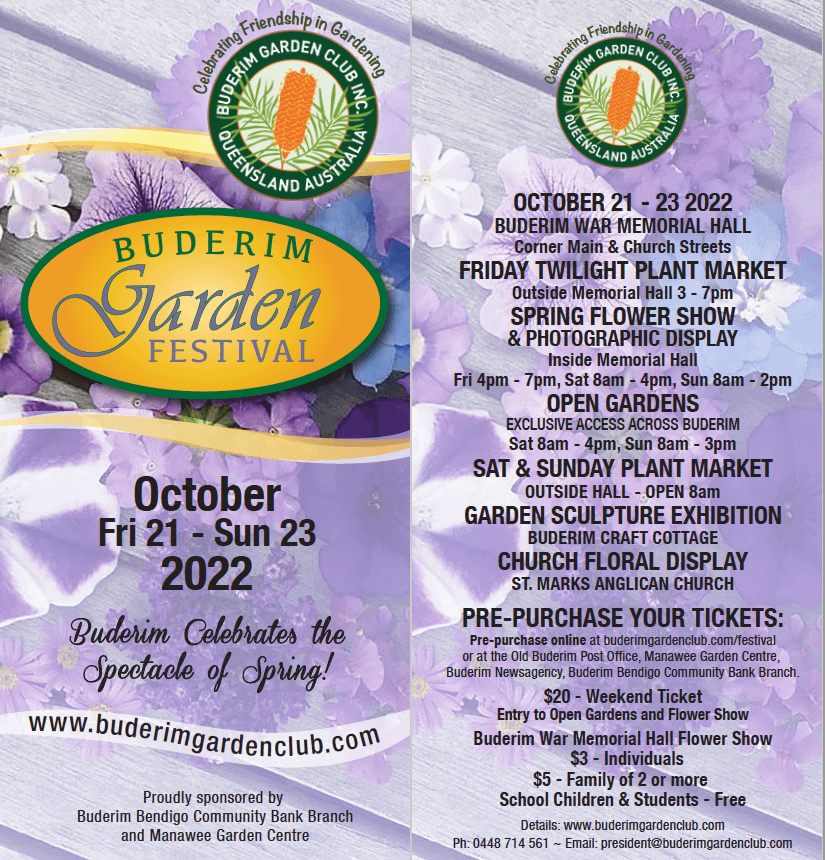 The Annual Buderim Garden Festival will run from
Friday 21st October (4pm) through to Sunday 23rd October

.

The Festival will attract gardeners and interested spectators from around the state. The Festival will centre in and around the Buderim War Memorial Hall (corner of Main and Church Streets, Buderim). A major feature of the Festival is the competitive Spring Flower Show including cut flowers, potted plants, foliage, hanging baskets, bonsai plants and garden photography. This year, the theme of the Festival is "Blue and White", always popular in gardens.

Adjacent to the hall there will be a Quality Plant Market selling a wide variety of garden plants such as bromeliads, gerberas, orchids, staghorns, ferns, roses, geraniums, cottage garden plants, begonias, cacti, succulents and garden novelties.

The Flower Show and Quality Plant Market, based at the Hall, will be open  – Friday 21st Oct (twilight session) 4-7pm,  Saturday 8am-4pm and Sunday 8am-2 pm. The Friday twilight session will include a sausage sizzle and coffee & cakes available from the adjacent craft cottage, which will also be open displaying a Garden Sculpture Exhibition.
Buderim War Memorial (BWMCA) Hall, intersection of King and Main Sts., Buderim
21-22-23 Oct 2021