With the recent rainfall here in the South Burnett it has certainly enabled us to enjoy the beauty and growth of our gardens. In our front garden at Ramesa Farm there are splashes of colour with lively looking Nasturtiums which can still be planted if you're looking to grow some attractive edible plants. They are also great companion plants and make a wonderful addition to your vegetable garden or any spaces you think might be suitable. We currently have them scattered in the front garden near our Tahitian lime tree.
Nasturtiums thrive in poor soils and actually produce more flowers in these conditions. This makes them a great choice for places where other plants tend to struggle. There are many varieties available, and plants can be bushy, climbing, or cascading. The blooms come in shades of white, orange, red, yellow and maroon and the dwarf varieties are great for containers. I remember a few years ago planting a variety named "Empress of India" which was a beautiful deep red colour. Growing at the moment we have the orange and yellow tones which were planted from seed and which germinated easily.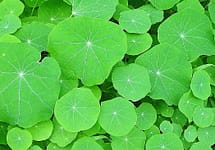 The leaves, flowers, and seeds of nasturtium plants are edible, offering a variety of culinary possibilities. They are also a good source of vitamin C. Nasturtium flowers have a peppery taste that provide plenty of flavour. Add them to salads and sandwiches for a colourful burst of flavour or mix them with mayonnaise, soft cheese, butter or sour cream to create a dip or a spread. Perhaps use the flowers to make a beautiful garnish. Nasturtium leaves are milder than the flowers and make a tasty addition to your meal. The seeds also provide tempting possibilities in the kitchen. I have heard of people harvesting them for culinary use as soon as the flowers fall off when the seeds are still green. Their taste and texture being similar to capers. The washed seeds are placed in a glass jar and covered with vinegar, then after three days they are ready for use in the kitchen.
Attractive to beneficial insects, repelling pests and otherwise increasing crop productivity, Nasturtiums are a great companion plant for vegetables and roses. They are a favourite of aphids and can be used as a sacrificial crop to protect more valuable plants. As the aphid population on the nasturtiums grow, it attracts lady bugs and other aphid-eating insects so that the problem often resolves itself.
A great feature of Nasturtiums is that they will self seed and come back year after year. Sow seeds directly in a sunny or partly shady area of your garden in the spring or summer and watch them grow. A few years ago I had a beautiful apricot coloured one gifted to me which continued to self seed in the back garden. Being easy to grow, nasturtiums do make an enjoyable plant choice for children. Success will follow when the soil is kept moist and the seeds begin to sprout. Also, soaking the seeds overnight encourages faster germination and once established, nasturtiums will require little water or care.
Creating a colourful addition to your garden with Nasturtiums will certainly have its rewards. Seeds are inexpensive to buy and are easily found at Garden Centres, Hardware shops and Supermarkets. Once planted I hope you will enjoy the many benefits they have to offer. Nasturtiums, being good companion plants with lovely open flowers and attractive to pollinators also provide visual interest in the garden as well. Happy Gardening, Romaine
Photos by Romaine Undery
Image 1 –

Nasturtium leaves have a peppery flavour and can be used in salads.

Image 2  –

Nasturtium flowers bright and cheerful adding a splash of colour.

Image 3  –

Nasturtiums scattered in the front garden pictured with a wallaby eating breakfast